Overview
The Chief Information Officer – Solutions and Partners 3 (CIO-SP3) government-wide acquisition contract (GWAC) is a 10-year Indefinite Delivery, Indefinite Quantity (IDIQ) contract managed by the National Institutes of Health (NIH), National Information Technology Acquisitions and Assessment Center (NITAAC). The contract has a $20 billion contract ceiling value. The goal of CIO-SP3 Small Business (SB) is to provide government agencies with the ability to quickly solicit and purchase needed information technology (IT) solutions and services at reasonable prices. Any federal civilian or Department of Defense (DoD) agency can utilize the contract vehicle to fulfill its IT requirements and socioeconomic goals.
Quality Technology, Incorporated (QuTech) is a certified woman-owned Information Technology (IT) solutions firm committed to providing our customers with secure, high-value and low-risk solutions. As a CIO-SP3 Small Business contract holder, QuTech went through a comprehensive due diligence and screening process, including a review of its technical capabilities, past performance, price, and cost. QuTech is an awardee in the restricted (Small Business Category) and is qualified in all 10 Task Areas.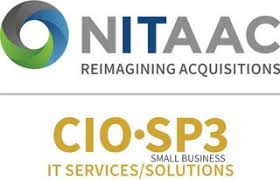 Learn more at the NITAAC CIO-SP3 Small Business website.
CIO-SP3 SB Contact Information
Hank Rawlerson
rawlersonh@qutech.com
Award Information
Award Details
Contract Number:  75N98120D00060
Contract Type:  Indefinite-Delivery Indefinite-Quantity (IDIQ)
Task Order Types:  Firm Fixed Price, Cost Reimbursement, Time and Material/Labor Hour
Period of Performance:  May 11, 2020 – July 14, 2022
Prompt Payment Terms:  Quality Technology, Inc. provides 0% discount for payments made with 30 days net.
Task Areas
Task Area 1:  IT Services for Biomedical Research, Health Sciences, and Healthcare
Task Area 2:  Chief Information Officer (CIO) Support
Task Area 3:  Imaging
Task Area 4:  Outsourcing
Task Area 5:  IT Operations and Maintenance
Task Area 6:  Integration Services
Task Area 7:  Critical Infrastructure Protection and Information Assurance
Task Area 8:  Digital Government
Task Area 9:  Enterprise Resource Planning
Task Area 10:  Software Development
QuTech Contract Labor Rates